$

6.99
Agent Orange Dioxin Kills Poppy Pin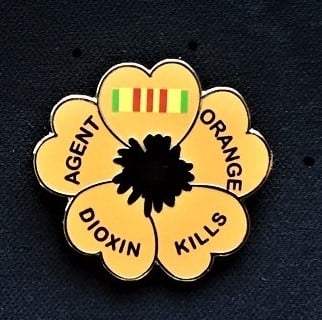 Why are Poppy's only brought out on Memorial Day and Veterans Day. This beautiful AO Poppy will remind everyone that Agent Orange is around 365 days a year. The pin is 1 1/8" in diameter and has 2 posts on the back to keep it from spinning. Of course I've added the Vietnam Service Ribbon at top and because Agent Orange breaks hearts every day and has for many, many, years I've designed this poppy out of orange hearts with the every present text "Dioxin Kills". This should be on every Vets hat or vest to show your support of this dreaded affliction that has ruined and taken so many lives.
Command Headquarters is proud to announce our partnership with the AVVA. To honor this partnership we will donate 20% of any order from an AVVA member to the AVVA.
Please enter the code: AVVA in the discount code box during checkout.