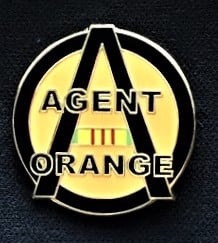 Very simple but to the point. AO Agent Orange. I've added the Vietnam Service Ribbon as the cross bar of the letter A because the majority of Agent Orange victims was from the Vietnam War. That's not to say the AO didn't appear in other theaters, but Vietnam is most recognized as the :hotbed" of spraying. This pin is 1" in diameter and has 2 posts on the back.
Command Headquarters is proud to announce our partnership with the AVVA. To honor this partnership we will donate 20% of any order from an AVVA member to the AVVA.
Please enter the code: AVVA in the discount code box during checkout.